Professor of Constitutional Law Anne Twomey (University of Sydney) and Benedict Coyne of Australian Lawyers for Human Rights join The Chaser's Julian Morrow for a CPD-point-worthy* discussion of the legal mechanisms the parliament, and the Crown itself, use to limit freedom of expression.
From the High Court's decision on Bicentennial bashing in Davis v Commonwealth, to the legal action against thejuicemedia.com over satirical use of the Commonwealth Coat of Arms; and all the way up to the Criminal Code Amendment (Impersonating a Commonwealth Body) Bill 2017 currently before parliament, this session will explore the express and implied limits on political communication when it's expressed as a joke.
In addition to being lawyers, all participants in this CPDUI have personal experience of these limitations. As well as being a leading expert on the Australian Constitution, Anne Twomey was once refused permission to use an image of the Crown on the cover of her book The Chameleon Crown: The Queen and Her Australian Governors. Benedict Coyne has worked closely with creators of The Juice Media and is a prominent advocate for a Queensland and national Bill of Rights. And over years of annoying federal politicians Julian Morrow for The Chaser has been involved in many behind-the-scenes legal scuffles over the prohibition on using parliamentary footage for the purpose of satire … and will waive privilege over the documents that prove it.
Attendance at this lively and informative CPD session is intended to allow:
lawyers who attend to claim 1 CPD point, and
the Commonwealth to prosecute Julian Morrow for publishing this image: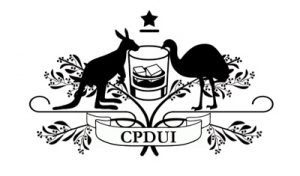 ---
Tickets – $50 + GST + $3.50 booking fee
includes 1 standard drink and 1 "alleged" unit of Continuing Professional Defamation
*Note: Seminars and other CPD activities are not accredited by The Law Society of New South Wales. Under the CPD Rules, if this particular educational activity is relevant to your immediate or long term needs in relation to your professional development and practice of the law, then you should claim one "unit" for each hour of attendance, refreshment breaks not included. The annual requirement is ten (10) units each year from 1 April to 31 March.
Time and Place
Giant Dwarf Theatre
199 Cleveland St, Redfern
Doors at 5:30pm for a 6:00pm start.
CPDUI is an 18+ event.